Free Piano Sheets of Albert Hammond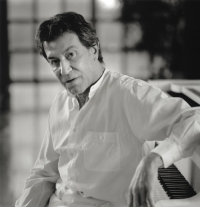 Albert Hammond (born 18 May 1944, London, England) is a Gibraltarian-British singer, songwriter and music producer. Hammond is one of the more successful pop/rock songwriters to come out of England during the 1960s and 1970s, and has also enjoyed a long career as a recording artist, his work popular in two languages on three continents across four decades.

"It Never Rains in Southern California" reached number five in the American Billboard Hot 100 chart and became a million-seller around the world, the first in a string of eight charting singles that Hammond enjoyed over the next five years. The accompanying album also introduced "Down by the River" and "If You Gotta Break Another Heart" — which was recorded by Cass Elliot in a slightly rewritten version — and "The Air That I Breathe." The latter was Hammond's favorite song on the album, and it was later to become the last major international hit by The Hollies (and that group's last significant U.S. single for more than a decade). Meanwhile, Hammond's follow-up album, The Free Electric Band (its title track salvaged from the unproduced musical), was nearly as impressive musically as its predecessor, although it sold far fewer copies without a huge hit to drive its sales. His next hit, "I'm a Train," came amid a flurry of activity surrounding Hammond's career. He produced records by Johnny Cash ("Praise the Lord and Pass the Soup"), collaborated with Richard Carpenter and John Bettis ("I Need to Be in Love"), wrote songs with Art Garfunkel, and, growing out of the latter project, recorded a self-titled third album produced by Garfunkel producer Roy Halee.
Share this with your friends
There are no other sheets found..


The free piano sheet music is provided for personal enjoyment only, not for resale purposes. If you are one of the artists and not happy with your work being posted here please contact us so we can remove it.

Latest Sheets
Here are the latest free piano sheets..
Mailing List
Subscribe to mailing list and get notified of updates.



Latest Sheets Feed


Popular Sheets Feed


Follow us on Facebook