Free Piano Sheets of Marc Anthony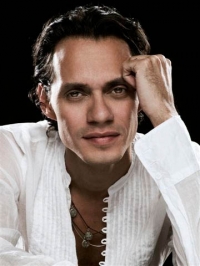 Marco Antonio Muñiz (born September 16, 1968) is an American singer/songwriter/actor of Puerto Rican descent, popular in Latin America for his salsa music and ballads.

Inspired by the music of Puente, Rubén Blades and Juan Gabriel, Anthony released his Spanish-language debut, Otra nota, in 1993, with the salsa hit "Hasta que te conoci" (Until I Met You), a famous song by Mexican singer Juan Gabriel Marc performed at the Radio y Musica Convention hosted by Alfredo Alonso. "Si Tu No Te Fueras", "El Ultimo Beso", "Palabras Del Alma", Though it was mostly a Spanish album, it did feature one English song, "Make It With You". Subsequent tours throughout the Americas, including an opening slot for Blades, established Anthony as one of the hottest new stars in salsa. In 1994, he was featured in La India's album "Dicen Que Soy", in the song "Vivir Lo Nuestro".

On July 11, 2006 Marc Anthony released "Sigo Siendo Yo", a Spanish greatest-hits album. "Que Precio Tiene El Cielo" was the 1st single salsa song and "Lo Que No Di" as a Latin pop song. Anthony stars as Hector Lavoe in El Cantante along with his wife (who acts as Lavoe's wife in the film) which was released in August 2007.

Marc Anthony sang the USA National Anthem when Oscar de la Hoya fought Floyd Mayweather Junior for the WBC Welterweight title.

On September 21, 2001 he also sang the national anthem at Shea Stadium in the first game after the attack on the World Trade Center.
Share this with your friends
Piano Music Sheets of Artist
Total 1 result(s), listing between 0 - 1.


The free piano sheet music is provided for personal enjoyment only, not for resale purposes. If you are one of the artists and not happy with your work being posted here please contact us so we can remove it.

Latest Sheets
Here are the latest free piano sheets..
Mailing List
Subscribe to mailing list and get notified of updates.



Latest Sheets Feed


Popular Sheets Feed


Follow us on Facebook