Free Piano Sheets of Isaac Albeniz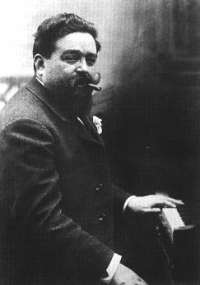 Isaac Albeniz i Pascual (Spanish pronunciation: ) (May 29, 1860 - May 18, 1909) was a Spanish pianist and composer best known for his piano works based on folk music.

Albeniz' Suite Espanola Op.47 is comprised mainly of pieces written in 1886, and grouped together in 1887 in honor of the Queen of Spain. Like many of Albeniz' piano pieces, these works are miniature tone pictures of different geographical regions and musical idioms of Spain. The eight original titles are Granada, Cataluna, Sevilla, Cadiz, Asturias, Aragon, Castilla and Cuba but only the first three titles and Cuba appeared in the original collection. The other pieces were published in later collections, often with different titles. The publisher Hofmeister published all eight titles of Suite Espanola in 1911 after Albeniz' death, appropriating other pieces for the other four titles so those pieces do not always accurately reflect the geographic designation of the titles, most obviously in the case of Asturias (Leyenda) whose Andalusian flamenco rhythms bear little resemblance to the music of the northern province Asturias. The opus number 47 assigned by Hofmeister has no relation to any chronological order in Albeniz' oeuvre, in which opus numbers were randomly given by publishers or by Albeniz himself, with some pieces appearing in more than one collection.
Share this with your friends
Piano Music Sheets of Artist
Total 2 result(s), listing between 0 - 2.


The free piano sheet music is provided for personal enjoyment only, not for resale purposes. If you are one of the artists and not happy with your work being posted here please contact us so we can remove it.

Latest Sheets
Here are the latest free piano sheets..
Mailing List
Subscribe to mailing list and get notified of updates.



Latest Sheets Feed


Popular Sheets Feed


Follow us on Facebook